The Camp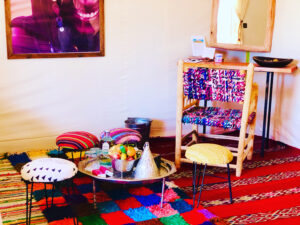 Pueblo Touareg Desert Camp consists of roomy and elegant, nomadic-style tents, carefully chosen for the Sahara climate and environment. Each tent is stylishly furnished with twin or double beds made with fresh, clean sheets and colorful local fabrics and cushions. Handmade furniture adorns the living spaces, while beautiful rugs lay across the sand to form your mobile floor.
Each tent is positioned with the greatest care to ensure maximum privacy and individual views and chairs along the sand dunes where you can recline and enjoy the magic of sunset. Adjacent to your tent is a well-appointed shower and wash area furnished with soft cotton towels, and a selection of soaps and lotions. To the rear of the camp and discreetly positioned are the loo tents. It goes without saying that the same attention to detail that we apply throughout, also extends to every aspect of these facilities.
  We Have 6 tents and a maximum of 16~20 people can stay at our accommodation. Our goal is to have a great impact on your experience at our camp, meaning that we will serve you with personalized services :
▪Very quiet private camp with a great view of the sand dunes.
▪Clean Tents with bathroom and of course clean towels, soap, and shampoo.
▪Delicious meals are served in a beautiful tent/restaurant or in the open air.
▪Private parking in the village in case you come with your own car.
▪Very friendly staff who speak different languages: English, French,    Italian Spanish, and Japanese.
▪Dinner and breakfast are inclusive.
 We wish you a very pleasant stay with us and look forward to welcoming you very soon.
OUR ROOMS & SUITES
When you host a party or family reunion, the special celebrations let you strengthen bonds with.