Savor the Magic of Moroccan Cuisine
Moroccan Culinary Wonders: A Flavorful Expedition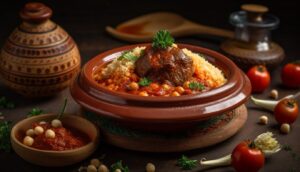 Moroccan cuisine is a captivating fusion of flavors and traditions, a reflection of Morocco's rich history and cultural diversity. It's a culinary adventure that invites your taste buds to explore the vibrant spices and fresh ingredients that define Moroccan cooking. At [Your Hotel Name], we take pride in bringing the authentic essence of Moroccan cuisine to your table, where every dish tells a story and each meal is a journey through this remarkable North African culinary heritage.
Discover The Culinary Journey of Peublo Touareg Restaurant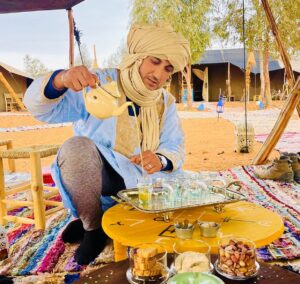 Our stay with us is not just about Accommodation, but it is a tour itself, from dinner to history of our tribes, from nomad life to art, the purpose of our camp is to offer you a comfortable stay and a lifetime experience.
The tents and the main area with the restaurant are designed to blend seamlessly into the surrounding environment and offer a superb view over the sand dunes of Erg Chebbi Merzouga.
The interiors are comfortable and the deco shows much attention to details by using local furniture and creates an authentic sense of being truly in the Sahara.
The whole camp is powered by solar energy panels, because this has wide-ranging advantages for our planet, especially when it comes to our environment by helping to slow climate change and the positive impact on the ecosystem around us.
Heal the Sahara, heal our future.