INTRODUCE OUR HOTEL
The desert couldn't be told, it should be lived.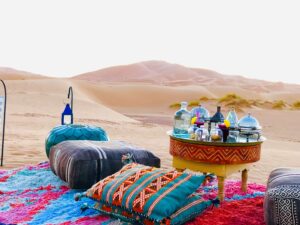 We warmly welcome you into our family and home, to share with you the beauty and magnificence of the Sahara and feel the rhythm of nomadic life. A once in a lifetime experience in the Sahara deserves unique accommodation.
 Pueblo Touareg Desert Camp is a small private camp offering authenticity and comfort in Merzouga sand dunes. This finest camp is owned and managed by indigenous people of the Sahara, who have great knowledge of hospitality and have spent many years in the travel and tourism industry, the team boast excellent experiences in both general customer care and hospitality services, and we will go extra miles to make your stay unforgettable.
OUR ROOMS & SUITES
When you host a party or family reunion, the special celebrations let you strengthen bonds with.
OUR CONCEPT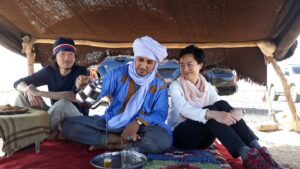 The camp is designed with local art, inspired by the Touareg Berber nomads of the Sahara.
  Your stay with us is not just about Accommodation, but it is a tour itself, from dinner to history of our tribes, from nomad life to art, the purpose of our camp is to offer you a comfortable stay and a lifetime experience.
The tents and the main area with the restaurant are designed to blend seamlessly into the surrounding environment and offer a superb view over the sand dunes of Erg Chebbi Merzouga.
The interiors are comfortable and the deco shows much attention to details by using local furniture and creates an authentic sense of being truly in the Sahara.
The whole camp is powered by solar energy panels, because this has wide-ranging advantages for our planet, especially when it comes to our environment by helping to slow climate change and the positive impact on the ecosystem around us.
Heal the Sahara, heal our future.
OUR MISSION
Arrive As A Guest, Leave As Family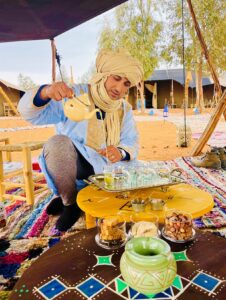 Our mission is to offer our guests the utmost quality and service when it comes to their dream holiday in the Sahara.
Pueblo Touareg prides itself on being one of the best comps committed to making safe accommodations, enjoyable, fun, and exciting for its guests. It is through these fundamentals that the Company aims to grow and cement its mark as the best accommodation camp of choice in the industry. We look forward to the future and envision the Camp to become the leading accommodation Camp in Morocco.
We take great responsibility in delivering the highest quality personalized service and attention, where no request is too much.
We will strive to create a relationship that earns us a lifelong friend.
OUR RESPONSIBILITY
Together We Can Make A Difference

 Social responsibility is vitally important to who we are as a company. Our policies ensure that we rigorously adhere to the highest standards and conduct business in a socially responsible and ethical manner, ensuring that as guardians for future generations, we continue to
Protect the environment and the safety of its people,
Support human rights and continue to engage, and
Learn from, respect, and support the local communities and cultures that our camp is located in.
We believe sharing is caring, Being a high-quality and responsible accommodation company is our commitment not only to our guests but also to society.
We are proud to be able to support a number of charitable and social projects and in so doing to lend a helping hand.